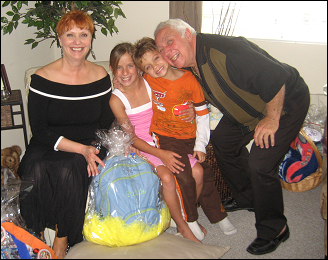 I was born Frank Anthony Competelli, to everyone now, I am known as just Frankie. I was born in NYC on August 4th, 1945 to Rose and Anthony, and became the new baby brother of Carmine, who was 17 years my elder. My parents were natives of New York; my grandparents came from Naples in 1906. I grew up in the lower east side of New York on Mulberry Street, where we ran the streets and played stick ball until the sun went down. Our mothers used to scream from the balconies when they wanted us home- and we could always hear their voices from a mile away. At the age of 5, my mother passed away leaving the three of us boys to take care of one another. I was forced to adulthood virtually overnight and I became a man, faster then any boy my age anticipated. Yes I had the help of my brother and father, but there is nothing like having your mother's gentle touch there to care for you. Out of all the things I had taken on, it was cooking that I enjoyed the most. That is when I realized it was my passion.
When I was 10, I had my first booth at the Feast of San Gennaro- my best friend Ronnie and I, had a nickel toss booth. What a great feeling- the biggest feast in the country right downstairs on my very own block. Celebrating our Italian culture for ten days with food and music… I remember it like it was yesterday. The hanging lights, the sound of the sausage and peppers sizzling on the grill, the cannolis going around like candy, and then there was me-at a corner booth, where kids lined up just to throw a nickel! The years I spent at the feast in NY, led up to me becoming a co-founder, and now the President of the Feast of San Gennaro in LA, which we started in 2001. An event people look forward to and talk about year round. An event I am so proud to be a part of, I feel it's an honor.
At 18 my father passed on and at that time my brother had already moved to Los Angeles. I began traveling back and forth from NY to California bartending wherever my brother was working, from La Dolce Vita, to Mateo's, and then moving on to Casa D'or, where I met my wife Teri in 1970. A jersey girl on a Los Angeles vacation, I couldn't believe my eyes. We reconnected back east, and soon after married in 1972. A year later our first daughter Rosemary was born, and we decided to pack our bags for good and head for LA-my brother was finally opening his own restaurant, Carmines on little Santa Monica.
I worked there for years learning the business and perfecting my cooking skills. I could cook whatever someone threw at me. I had a gift. I eventually ventured on to open a fish market on Melrose Avenue, as well as a seafood restaurant in Granada Hills. We had our second daughter Teresa in 1977, and life was good. In 1987 I revamped my fish market, and turned it into what I thought LA needed, a little piece of home, a NY Italian Restaurant. I wanted my place to be where people came, when they needed family. So I brought in all my old recipes, and all my old tricks. I used nothing but the finest things, from start to finish. I always believed Italians live a romance with food! Still today, I am the neighborhood place to go. When people walk thru my doors, they smell the sweet scent of Frutti Di Mare, hear the sound of Frank Sinatra playing in the background, and are greeted with open arms at the door, as if they were my own family.
So now, in 2014, I am still enjoying my restaurant, my wife of 42 years, my two beautiful daughters and the two most stunning grandchildren a man can ask for. As an American Italian, I always felt that family was the most important part of my life. I passed down the tradition of Sunday dinners where "no matter what" we were always together. It is something we all look forward to, especially the homemade gravy, meatballs and braciolle. The door is always open to anyone, and the more people who come, the happier we are. We were just lucky to be together. In all I have accomplished over the years, it's my family I am most proud of. Family is where it is. Family is home.